Create an Academic Event Request with Daily Repeats
Click on one of the following options:
Event Wizard tab
Create an Event button
Choose an option under Find Available Locations
Availability tab
Event Wizard Tab
Click the Event Wizard tab.

Type in the Event Name.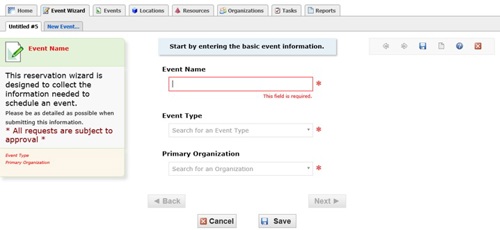 Select 25Live Academic Event from the drop down list.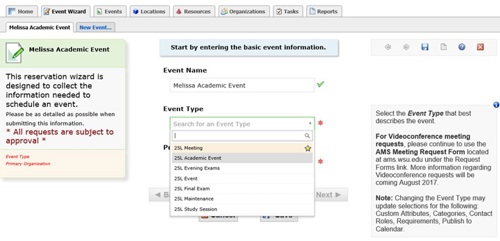 Type in Primary Organization.  This is typically the Course Prefix or Department associated with the event.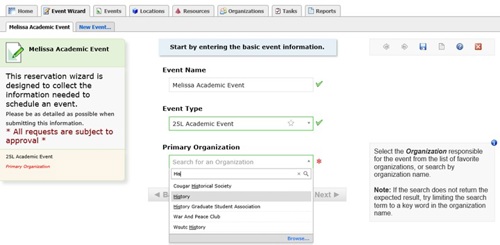 Click Next.
Type in the Head Count.

Type in the Event Description.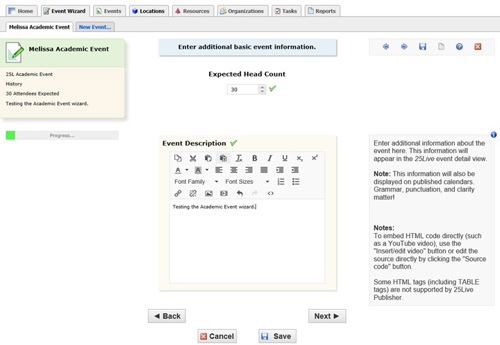 Click Next.
Select Event Occurrence.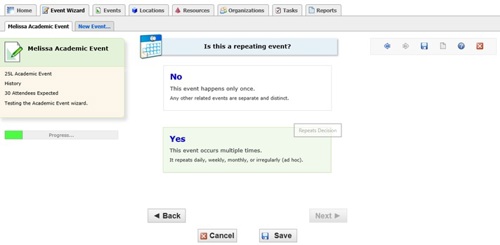 Select Date, Times and Setup/Takedown Times for the initial event.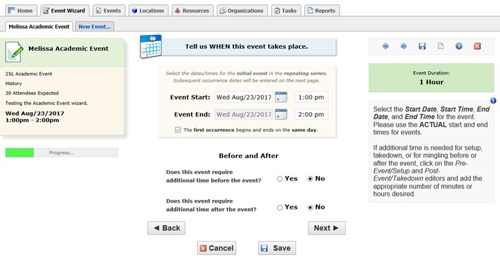 Click Next.
Select Daily Repeats.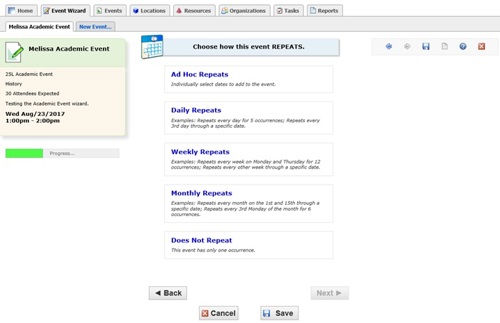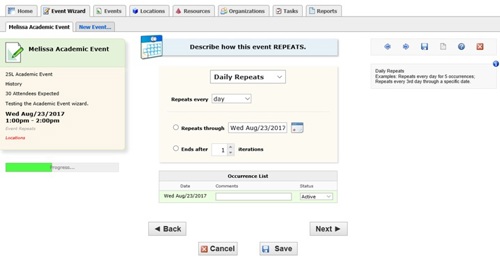 Choose how often under the Repeats every field.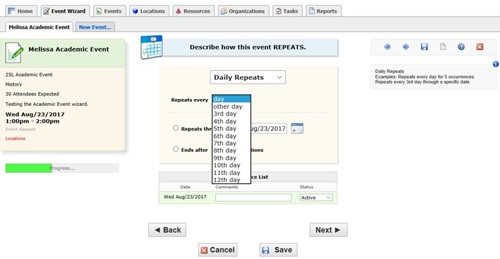 Select the rest of the event dates by changing the following:
Date in the Repeats through box
Number in the Ends after iterations box
Note:
Dates can be cancelled by changing the status to Cancelled.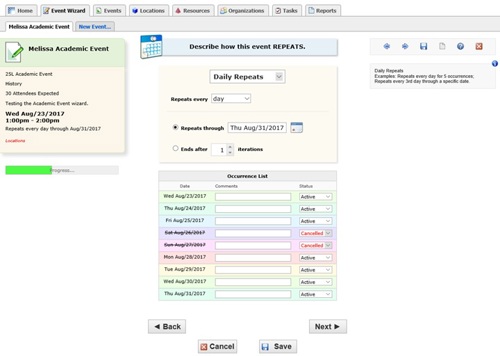 Click Next.
Select Location.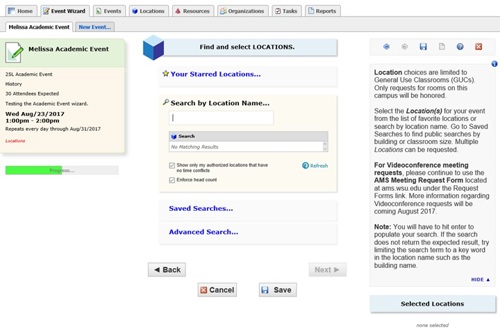 Selected SPRK 212.
Note:  If you need to remove a Location click the red x under Selected Locations (bottom right).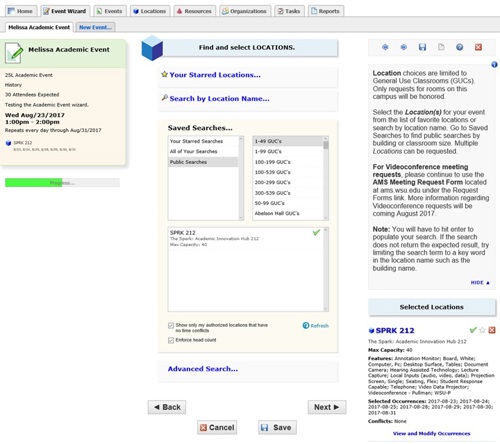 Click Next.
Select Resources.  NOTE:  This is only used for Videoconference Event Type requests.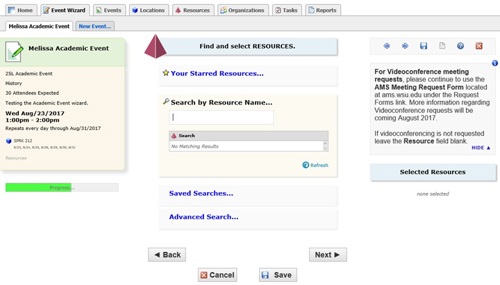 Click Next.
Attach files if needed.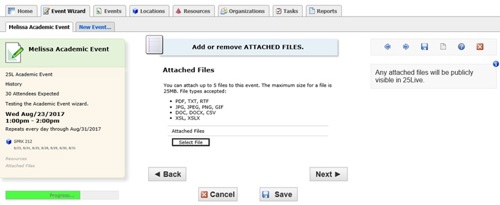 Click Next.
Fill in Event Specific questions.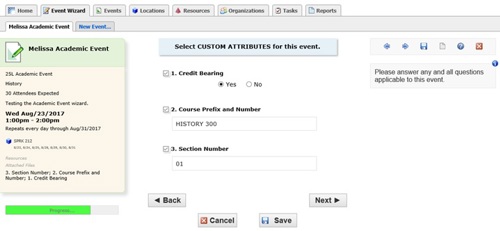 Click Next.
Type in additional comments if needed.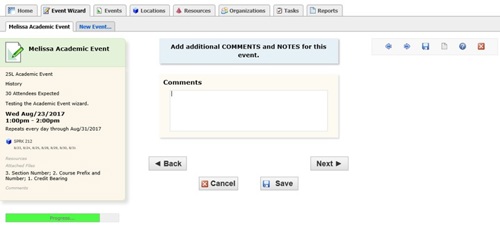 Click Next.
Read the General University Classroom use agreement and click the I agree* box.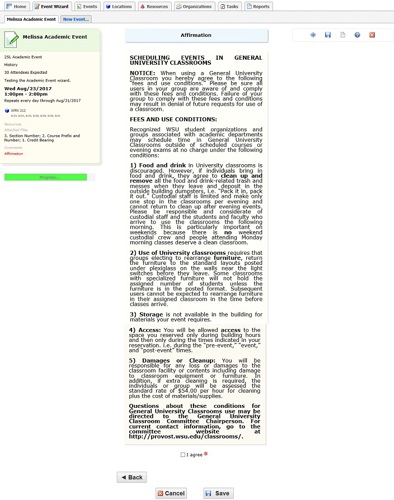 Click Save.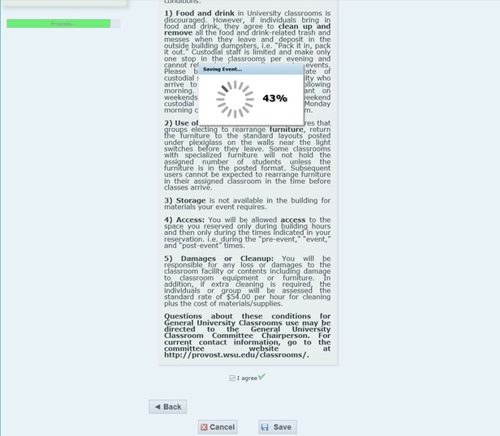 You have finished submitting your event request.  Click Close.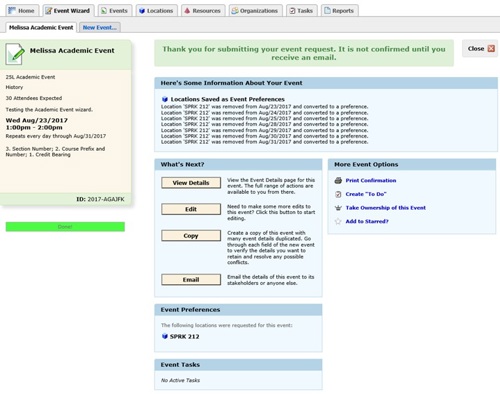 Please note the following:
Events submitted by Requestors are in the Draft state.
You can make changes to your event request when they are in the Draft state.
An email will be sent to you after you submit the event request.  Below is an example of the email that will be sent.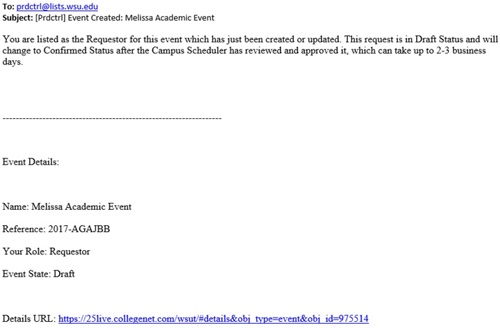 An additional email will be sent once the request is reviewed and confirmed by the Campus Scheduler.  The confirmation process can take up to 2-3 business days.