For General Instructions on using 25Live see our instructions in the sidebar or view our Old Instructions (images are from 25Live Classic, which is not the current version).
25Live Pro Support
WSU moved to the Pro version of 25Live in October, 2019. Since this time, CollegeNet, the vendor, has continuously worked to update the application, responding to customer requests and working to improve the interface. While the effort to improve 25Live is appreciated, this presents a challenge in supporting users, as the application literally makes changes every week and sometimes, every day. Your best resource for help with 25Live Pro is the Registrar's Office Scheduling Team. Do not hesitate to contact us if you need help learning to create an event or if you run into technical difficulties. Our contact information is in the sidebar.
---
General Troubleshooting
All Rooms show PRIVATE. Are you logged in?
Though each campus' instance of 25Live works a little differently, generally when ALL rooms show as Private, you are not logged in. All WSU users are able to log into 25Live using their Network ID. If just a few rooms show private, then you do no have access to view events in that particular space.
25Live doesn't look right?
25Live normally remembers the view that you like to use when you start the application. Lately it has occasionally served a different view and many users don't know how to find the view that they like. Select the "hamburger" icon in the upper right and choose the view that you prefer. Many users like the Availability View, but Calendar View and List View can also be useful. Some power-users prefer to start on the Dashboard.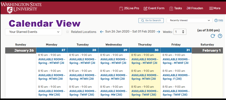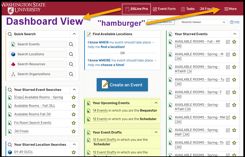 The room I want is not showing up
If you search for rooms using the Event Form, and the room you type in is not an option there are a few things to try.
Uncheck Hide Conflicts. If your room has a conflict, it will not show up when this box is checked. Uncheck it and select Search again.
Uncheck Enforce Headcount. If your desired room is smaller than your Expected Attendance, then it will not show up in the Search. Uncheck it and select Search again.
Use a Public Search to find it. Perhaps you are not typing the name correctly.
The room may not be available to request. Contact us if you have questions about this.
What is my 25Live login?
All current WSU users with active NetworkIDs have access to login to 25Live. Use your normal credentials. 
Where is 25Live?
25Live is a web application used for scheduling rooms and spaces on WSU campuses. You can find links to it in the right sidebar. Each campus has it's own version of the application.
I need extra training. Where can I get help?
We have several options for getting help with 25Live.
Download our 25Live Event Scheduling Instructions. The link is in the sidebar.
We do a session on 25Live during the Schedule Builder training classes. You can find the next on on our Academic Scheduling page.
Use our Old Instructions. The images are old, but the basic information is there.
Schedule one-on-one assistance with Sheree or Jill. Our contact information is in the sidebar.
Email or call us for help. We can can set up a Zoom Meeting to help walk you through your first event.
I need to cancel my event. How do I do that?
Email us at ro.eventscheduling@wsu.edu to cancel or make changes to your event. You can edit the event while it is in Draft mode.
My event has not been confirmed. Why not?
Events are confirmed for the current semester only based on many factors. Academic courses have priority and are scheduled first. Academic events receive the next highest priority. Events scheduled during the first ten days of classes are confirmed just one-two days in advance as Academic courses are still be scheduled. Events after the first ten days of classes will be scheduled in the order received and are subject to relocation if an academic event needs the space. We do not confirm events for the next semester in advance as academic courses must be scheduled first. It is not reasonable to block a GUC or VC space during a specific time for an entire semester to accommodate an event.
Links to 25Live
---
GUCs
For more information about General University Classrooms, hover over the space in 25Live or visit our GUC page.
---
RSO Event Scheduling
If you are a Registered Student Organization, you can schedule events using 25Live. This flyer tells you how to schedule an event if you are in an RSO.
---
Scheduler_dept Listserv
Academic scheduling newsletter & announcements. Sign up.
25Live Pro Instructions
Room Search Event 25L
---
Campus Schedulers
Academic & Event Schedulers by Campus