Academic Scheduling
2217: Pullman Schedule of Classes
Fall 2021 Schedule of Classes will be posted: 3/9/21
Some content on this site is specific to the Pullman campus. If you have suggestions, find an error, or have other comments about this site, email the webmaster.
---
"For Students" Pages
posted 3/30/21
A new suite of pages has been created geared towards the student point of view. The students page under COVID-19 Scheduling was moved into this suite. New pages include: Viewing the Schedule of Classes, Understanding Instruction Mode, How Classes Are Taught by Campus, and Exam Information.
---
COVID19 Scheduling Page Updates
posted 3/4/21
The COVID19 Scheduling website has been updated recently to add:
---
Fall 2021 Resources
posted 2/25/21
A reminder that we have a set of pages devoted to scheduling during the COVID-19 pandemic. We have information on Instruction Mode definitions, GUC Room Capacities, Department Room Capacities, and screenshots of what classes look like to students in myWSU and RONet's Schedule of Classes (Student View). We just added a FAQ page to answer questions that schedulers have sent us. If you have questions you'd like to see added, email us.
Open Lab is scheduled on Monday, March 1, 2021 at 9am. For an invitation to the meeting, email us.
25Live Building Preferences
posted 2/26/21
Campus Schedulers use a tool called Optimizer to make classroom assignments on many of our campuses. This tool is especially helpful on the Pullman campus, where there may be as many as 4,900 active sections in a term. The Optimizer utilizes organization building preferences to assign GUC classrooms in order of the organization's preferences. All suitable GUC spaces must be listed in one of four preference lists, otherwise the Optimizer will not assign a classroom. Department Schedulers may view the preferences on the Building Preference page and should their campus scheduler if changes are requested.
---
CANVAS: Scheduler Resources
posted 2/24/21
Resources for CANVAS for department and campus schedulers are located in the WSU Knowledge Base. Topics of interest to schedulers include: "Flagging Courses for CANVAS", "How to Enable Waitlisted Students Access in CANVAS", and "myWSU Roles and Canvas Access".
---
PULLMAN: Fall 2021 Proofing: Deadline 3/8/21
posted 2/11/21
Fall 2021 Proofing Guidelines
The Distance Delivery instruction mode is not an option at this time. Classes must be scheduled as face-to-face, hybrid, some online, or blended with Global. Decisions regarding Distance Delivery will be reviewed and approved at a later date.
Videoconference (VC) classes originating in Pullman must have an in-person component on the Pullman campus. 
Lectures larger than 100: Set instruction mode as Hybrid or Some Online or use a section blended with Global. 
Lectures smaller than 100: Set instruction mode as Face-to-Face, Hybrid, Some Online, or blended with Global.
Department rooms can be added now. Use the COVID capacities posted on our site at: https://registrar.schedule.wsu.edu/covid19-scheduling/dept-rooms/
GUC spaces will be assigned during the summer. We will make an announcement prior to assigning rooms to allow you to update your Requested Room Capacity. You can find current capacities here: https://registrar.schedule.wsu.edu/covid19-scheduling/room-capacities/
Proofing dates: Now ­- 3/8/21.
Schedule of Classes posts: 3/9/21.
Department Scheduler responsibilities
1. Set instruction mode for all Fall 2021 classes BEFORE selecting APPROVE.
P: 100% face-to-face (synchronous)(also use for the originating campus for VC sections)
40: Videoconference (VC) (synchronous)(receiving campus for VC sections). A VC class is taught by the same instructor on multiple campuses at a specific day/time.

Use P for Originating campus (Pullman only). Request a VC capable GUC or department space.
Use 40 for Receiving campus. Content may be received in a room or on a personal device.

HY: 75% or more web-based instruction (synchronous)

Use when a course will have at least one in-person meeting, but the majority of instruction is online.
Use when the course will rotate students and 25% or less of instruction will be face-to-face (students meet in-person 1 of 4 class meetings).

SO: <75% web-based instruction. (synchronous)

At least 25% of instruction is face-to-face
Use when a course will rotate students and instruction will be face-to-face at least once per week (ie. students meet in-person on M or W or F of a MWF course)

30: 100% online (asynchronous)

Used ONLY for sections blended with Global.
If a section has been approved to be blended by Global, then a section has been set up by Global. Do not set up a new blended section without consulting Global. We will NOT convert existing sections to Global sections.
If you wish to create a new blended section, please contact AOI/Global Campus
2. Set meeting day/time for synchronous instruction
3. Set facility
GUC_TBS: GUC space is requested
VC_PUL: Videoconference space is requested for originating campus. Students receive instruction in-person.
Department Space: Updated capacities can be found at: https://registrar.schedule.wsu.edu/covid19-scheduling/dept-rooms/
ARR_ARR: Only used when a day/time is listed and the room will be arranged by the department at a later date
4. Set Requested Room Capacity & Enrollment Capacity without considering room size FOR NOW.
Set Requested Room Capacity and Enrollment Capacity for the number of students you would like to enroll.
We will ask you to update your Requested Room Capacity during the summer before we assign rooms. If we set this capacity now, your enrollment will be limited.
Room Assignments
Some large lectures may currently have room assignments. No other GUC room assignments will be made until July/August. If you do not want the assigned room, leave a Notes/Request.
Assign Department rooms now. Changes may be made at any time via Notes/Requests.
Do NOT request specific GUC spaces now. We will delete your request. You may request specific rooms after all rooms have been assigned.
To maximize GUC room assignments, we will use the optimizer application to assign rooms based on your previous preferences. We will accept specific room requests AFTER rooms are initially assigned.
If you wish to update your building preferences by department, contact us at schedule@wsu.edu.
Coding Scenarios
Set the instruction mode to describe the way that the instructor intends to teach the course.
Class instruction is 100% face-to-face but students will have an option to join via Zoom when sick or quarantining.
Students will rotate, attending class face-to-face one day per week, and via web-based/Zoom instruction the other two days per week.

SO: less than 75% web-based (2 of 3 days is 67% online)

Students will attend occasional face-to-face meetings, but predominantly will attend via Zoom or other web-based instruction.

HY: 75% or more web-based

Class instruction is 100% via Zoom. Students will attend class via their own device. Class offered on ONE campus.

Not currently an option. Please plan an in-person component and code the class as P, HY, or SO.

Class instruction is Videoconference. Class is offered on multiple campuses.

40: Videoconferencing for the RECEIVING campus. Students may receive instruction in a room or on their own device.
P: 100% face-to-face for the ORIGINATING campus. Instruction will be in a room, though students may occasionally attend using their own device.
---
Previous Announcements
25Live Public Searches
posted 7/10/20
We have updated the Public Searches in 25Live for the Pullman campus. As it is difficult to see the COVID Adjusted capacities in 25Live, these searches will bring up spaces with a given capacity or higher. The search name tells the user the room capacity. For example: CV GUC 45+ will find GUC spaces with 45-49 seats (as 49 is still the highest capacity allowed). We will accept requests for different spaces beginning 7/18/20/ for academic courses. We will not approve any spaces for events until further notice.
| | | | |
| --- | --- | --- | --- |
| CV GUC 45+ | CV GUC 40+ | CV GUC 35+ | CV GUC 30+ |
| CV GUC 25+ | CV GUC 20+ | CV GUC 15+ | CV GUC 10+ |
Fall 2020: Change Standard Meeting Times
To allow a buffer between MWF and TH standard meeting times when a course uses both times, such as MTWH, we have moved Tuesday/Thursday meeting times five minutes later starting at noon. For example, courses that were 12:00 to 1:15pm using the old meeting times will meet 12:05 to 1:20pm starting Fall 2020.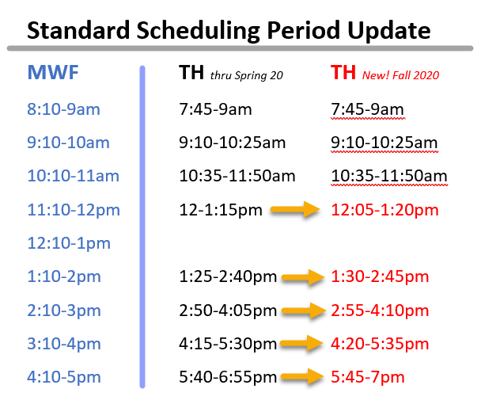 Fall 2021 and Spring 2022 were rolled
posted 7/22/20, updated 9/30/20
We have rolled both future semesters on the Pullman campus to prevent instruction mode updates that are happening during Fall 2020 and Spring 2021 from impacting future semesters.
---
OBIEE: Sections and Enrollment by Instruction Mode
posted 7/22/20
We created a new OBIEE report to give departments a way to visualize how many sections and students are enrolled based on Instruction Mode. This new report is located in myWSU > OBIEE > WSU Enrollment Summary Reports > Enrollment Summary Reports dashboard > Instruction Mode Summary Info. The report provides "live" data from the previous evening. There is not a way to view data on a specific date.
The top area shows Instruction Mode percentages by section and enrollment by campus. The screenshot below was taken on 7/22/20.

The second section allows the user to view Instruction Mode based on Term, Campus, Academic Group, Academic Organization, and Subject. Dropdowns allow the user to change the options. This section allows the user to export a spreadsheet showing the data.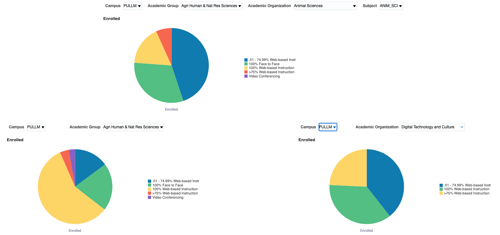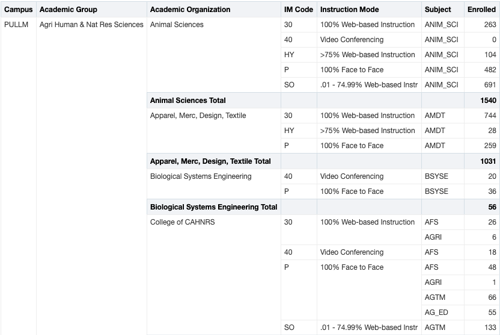 Updated Training Guides
We have updated our 25Live training guides in the right sidebar. NEW! We have created an Event Type for your Room Search Event. Please use "X DRAFT" as the event type when you create a new Room Search Event. All current Room Search Events that were using 25L Pullman Academic Event were updated. We were thrilled to see how many departmental Room Search Events are out there! Great job! You may want to set up a second search for Fall 2020, for example "Butch's Room Search - Fall". You can keep your Spring search and just update the dates for Spring 2021, if you like.
---
Join our Listserv
Join our cleverly named Schedulers_dept listserv for Department and Event Schedulers. Use this link to join. Academic scheduling announcements, our newsletters, and other messages will be sent through the list.
Schedule Builder Classes
Do you want a refresher on the Schedule Builder applications in myWSU? Are you new to scheduling and need access to Schedule Builder applications? For more information on access and training, find it in the Schedule Builder training pages. We do not have any classes planned for early 2020 as WorkDay is using our normal lab. Send Jill Freuden an email if you are interested in a class; we can set up a temporary lab in Lighty if needed.