Academic Scheduling: Fall & Spring
Where are the COVID-19 pages?
Many of the pages originally located under COVID-19 scheduling were moved to the Proofing area. Starting Fall 2021, WSU is scheduling classes per normal procedures.
Some content on this site is specific to the Pullman campus. If you have suggestions, find an error, or have other comments about this site, email the webmaster. If you have questions about the Pullman Summer/Winter sessions, please contact Global Campus.
---
LMS Class Attribute No Longer Active
updated 5/23/22
The Class Attribute LMS: Canvas is no longer active in Maintain Schedule of Classes. You may remove it when you see it. Flag your classes for Canvas in the new Maintain LMS Course Spaces component. Find it at: myWSU > Main Menu > Curriculum Management > Schedule Builder > Maintain LMS Course Spaces. More information on the new LMS components.
Spring 2023 Proofing is OPEN!
updated 5/11/22
Proofing is open until September 18. Department Schedulers can find Proofing instructions on our Proofing pages. 25Live is displaying the room assignments, though the sync will be turned off this afternoon for the Optimizer run.
---
LMS (Canvas) Components are live!
posted 3/28/22
Two new components for managing LMS course spaces and LMS users should be visible to department schedulers starting Monday, March 28, 2022.
Curriculum Management > Schedule of Classes > Maintain LMS Course Spaces
Curriculum Management > Schedule of Classes > Maintain LMS Users
More information on these components and how to use them.
Sign-up for LMS Component
Training!
posted 3/18/22
Training for the new LMS Canvas Components will be held March 28-30. Sign-up for training and receive a Zoom link to add to your calendar. The sign-up form.
Training is offered:
Monday, March 28, 2022 from 9-10am
Tuesday, March 29, 2022 from 1-2pm
Wednesday, March 30, 2022 from 9-10am
Fall 2022 Goes Live 3/1/22
posted 2/15/22
Final Proofing ended 2/13/22 though departments may continue to update the Fall Schedule of Classes through the 10th day of instruction. Sections that were approved by 2/13 will be visible when the Fall Schedule of Classes goes live in the RONet Schedule of Classes on 3/1/22. Notes/Requests submitted after 2/13/22 may not be updated in myWSU prior to 3/1/22.
Spring 2022 Rolls 3/7/22 Week
posted 2/15/22
Notes/Requests submitted for Spring 2022 will be reviewed prior to rolling Spring 2022. This is the first term that we will attempt to roll rooms. If your subject does not wish to have rooms rolled, email us at schedule@wsu.edu. Rooms will be rolled as the default; schedulers will have the option to remove rooms from specific sections via Notes/Request. When the time/day is changed, the room will be removed. We will use the Optimizer to assign classrooms to any class that has GUC_TBS or VC_PUL listed as the the Facility ID.
---
Fall 2022 Proofing: Room Assignment January 7 or 10
posted 12/28/21
Initial Proofing closed on 12/19/21. You may continue to edit classes, however we do not guarantee that any requested changes will be made before the Room Optimizer run. We plan to run the Optimizer 1/7/22 or 1/10/22 depending on our progress processing the current requests and cleaning up the term.
The Room Assignment process is not a guarantee of a GUC space. We will do our best to assign sections approved by 12/19/21. If a room is not assigned, it is the department scheduler's responsibility to continue the search for an appropriate space, perhaps by using a department space, facilitating a trade, or by watching for a room to become available using 25Live. The department may wish to reschedule a section to find a suitable GUC space before registration opens in March. It is difficult to accommodate all requests for extremely popular times and VC classrooms.
Final Proofing officially opens 1/24/22. Updates requested by 2/13/22 will be made in time for the posting of the Fall Schedule of Classes on 3/1/22. As always, you may continue to edit classes now through the 10th day of Fall 2022.
---
Updated Videoconference Instruction Mode Codes
posted 11/30/21, updated 12/28/21
The latest information on scheduling VC sections has been updated in the Instructions > Videoconference page of our website. You can find more information on Instruction Modes under Proofing. Note that there have been changes since the the FAQs below were posted. Most importantly, it is no longer required to create a separate section for a single student who is receiving a course remotely while the other students on the campus are in an in person section.
Videoconference classes are not considered online instruction; use the new VC Instruction Mode codes.
Provost Fall 2021 Operations and Course Delivery FAQs
posted 9/1/21
Fall 2021 Policies and Procedures
---
Guidelines for Academic Scheduling
posted 8/17/21
Policies for Department Chairs posted by the Office of the Provost. Includes the Fall 2021 Instructional Guides regarding instruction modes and Videoconference Policies.
EPPM updated February 2020 Videoconference Policies, Section 14
Instructions Mode descriptions
Videoconference section instructions
---
Spring 2022 Proofing: Pullman Campus
posted 7/9/21 updated 9/1/21
Information about proofing can be found on our Proofing pages.
Room Optimizer was run. 63% of rooms were assigned within the requested preferences. More about the room assignment process.
Courses must be APPROVED by 9/18/21 to be included in the Schedule of Classes when it posts on 10/1/21. Courses approved after this date are activated per normal procedures starting 10/1/21.
Spring 2022 Deadlines
Final Proofing: 8/31 - 9/18/21. Department schedulers review room assignments and approve/update sections. Requests for specific rooms are accommodated, when possible. Please use 25Live to find available spaces. Courses not approved by 9/18/21 will not be active when Schedule of Classes posts on 10/1/21.
No New Requests Processed: 9/18 - 9/30/21. Campus Schedulers review requests and updates submitted during proofing. New requests may be submitted, but will NOT be reviewed until after 10/1/21.
Schedule of Classes is posted: 10/1/21.
Ongoing updates: 10/1/21 through 10th day. Updates are processed through 10th day of classes. Allow three business days for processing.
---
Room Re-Assignment Project
posted 7/1/21
In anticipation that WSU will officially move to restrictions for Fall 2021, rooms are being manually reassigned to find spaces that are large enough for in person instruction. This process was completed 7/8/21.
Rooms are Assigned
posted 5/13/21
Room assignments for Fall 2021 were completed on Wednesday, May 12, 2021. 45% of sections were successfully assigned using the Optimizer application. 55% of sections were manually assigned in the best possible available room. Unfortunately, many of those rooms were smaller than originally requested due to the COVID-19 Fall 2021 Capacities and the large number of sections requesting space during peak hours (9am-2pm). There are a large number of GUC spaces seating 20 students or less that are available all day.
Concerns regarding room assignments should be directed to Jill Freuden. Room requests may be submitted per normal procedures in myWSU > Maintain Schedule of Classes. Please use 25Live to find open rooms prior to making a room change request.
A refresher course in creating a room search event and using 25Live to find available rooms was held May 18, 2021. Find the recording in the right sidebar under 25Live Instructions.
---
Room Assignments: week of 5/10/21
posted 4/20/21
We will be assigning GUCs to Pullman classes for Fall 2021 earlier than originally planned. We will now run this process the week of May 10, 2021. Courses that will be taught Some Online, Videoconference, Hybrid, or In Person (and larger than 100) have Requested Room Capacities that are larger than the size of room that they need. This number must be temporarily reduced to assign rooms.
Requested Room Capacity (RRC)
RRC determines the size of room that will be assigned for a class. Current restrictions allow room capacities of up to 100 students in a room. Current GUC Room Capacities. Current Department Room Capacities. If you find an error in the department room capacities, email us at: schedule@wsu.edu. 
RRC cannot be lower than Enrollment Capacity, otherwise enrollment may be impacted. We will temporarily reduced RRC, assign rooms based on the lowered room capacity, then return the room capacity to the original number, allowing enrollment. 
Instruction Mode Updates
As the GUC and department spaces have significantly increased capacity, the Provost's Office has a strong desire for more in person instruction for Fall 2021. The current overview of how courses will be taught across the WSU system can be found on the Registrar's home page or on our dedicated student page. On 4/26/21, 55.3% of courses on the Pullman campus are scheduled as in person. Another 27.8% are at least 25% in person instruction. You may bulk update instruction mode during the process outlined.
Updating your Instruction Mode & RRC
Individual Courses
Notes/Requests in Maintain Schedule of Classes (normal procedures)
An online Smartsheet form. This is faster and easier than working in myWSU. 
Bulk Upload
Export the "COVID - Add Supplemental Data" report in OBIEE as an Excel file.

This is the same worksheet used for Fall 2020 bulk updates.
Find the report at: OBIEE > Schedule Builder dashboard > Schedule Builder > COVID - Add Supplemental Data report.

Use the blank columns in the front to provide updated information.

Use the "Flipped/Rotated" column to provide updated Requested Room Capacity information.
Use the "CV Instruction Mode" column to provide updated Instruction Mode data.
Do not add or delete columns to this report.
Do not update the existing column data - we will need the information to return RRC to the original number.

Email the spreadsheet to us at: schedule@wsu.edu or upload it to the Smartsheet form.
Room Assignment Process
Requests for specific rooms will not be accepted until AFTER rooms are initially assigned. 
May 10: Campus schedulers will compile the received data and update the Requested Room Capacity per requests. A lower room capacity increases the opportunity for room assignment and is required for courses that are teaching Some Online, Hybrid, or Videoconferencing. It is possible that enrollment will be impacted during this time period.
May 11: Campus schedulers will run the Room Optimizer application in 25Live to assign rooms to courses that are coded GUC_TBS or VC_PUL. Specialty rooms will be assigned first (VC, Flex, Active, Parliamentary). 
May 12: Campus schedulers update Requested Room Capacity for those courses that were temporarily reduced. This will allow regular enrollment to continue. New room assignments visible in 25Live.
May 13: Room requests will be accepted via Notes/Requests in Maintain Schedule of Classes. Please check room availability in 25Live. Instructions for creating a Room Search Event are available in the right sidebar of this page.
Combined Classes & Rooms
The RRC of combined classes needs to be equally divided between all sections. For example: ENGLISH 337 is CrossListed with FINE ART 337. Each section has a requested room capacity of 60. The total of the two sections is 120, so the Optimizer will be looking for a room that seats 120. As the maximum capacity is 100, no room will be assigned.
---
Schedule Builder Class added
posted 4/20/21
An extra Schedule Builder Class was added for Thursday, April 22, 2021 from 2-4pm. If you wish to register for it, visit our Access and Training page. All department schedulers are welcome to join any Schedule Builder Class.
"For Students" Pages
posted 3/30/21
A new suite of pages has been created geared towards the student point of view. The students page under COVID-19 Scheduling was moved into this suite. New pages include: Viewing the Schedule of Classes, Understanding Instruction Mode, How Classes Are Taught by Campus, and Exam Information.
---
COVID19 Scheduling Page Updates
posted 3/4/21
The COVID19 Scheduling website has been updated recently to add:
---
Fall 2021 Resources
posted 2/25/21
A reminder that we have a set of pages devoted to scheduling during the COVID-19 pandemic. We have information on Instruction Mode definitions, GUC Room Capacities, Department Room Capacities, and screenshots of what classes look like to students in myWSU and RONet's Schedule of Classes (Student View). We just added a FAQ page to answer questions that schedulers have sent us. If you have questions you'd like to see added, email us.
Open Lab is scheduled on Monday, March 1, 2021 at 9am. For an invitation to the meeting, email us.
25Live Building Preferences
posted 2/26/21
Campus Schedulers use a tool called Optimizer to make classroom assignments on many of our campuses. This tool is especially helpful on the Pullman campus, where there may be as many as 4,900 active sections in a term. The Optimizer utilizes organization building preferences to assign GUC classrooms in order of the organization's preferences. All suitable GUC spaces must be listed in one of four preference lists, otherwise the Optimizer will not assign a classroom. Department Schedulers may view the preferences on the Building Preference page and should their campus scheduler if changes are requested.
---
CANVAS: Scheduler Resources
posted 2/24/21
Resources for CANVAS for department and campus schedulers are located in the WSU Knowledge Base. Topics of interest to schedulers include: "Flagging Courses for CANVAS", "How to Enable Waitlisted Students Access in CANVAS", and "myWSU Roles and Canvas Access".
---
PULLMAN: Fall 2021 Proofing: Deadline 3/8/21
posted 2/11/21
Fall 2021 Proofing Guidelines
The Distance Delivery instruction mode is not an option at this time. Classes must be scheduled as face-to-face, hybrid, some online, or blended with Global. Decisions regarding Distance Delivery will be reviewed and approved at a later date.
Videoconference (VC) classes originating in Pullman must have an in-person component on the Pullman campus. 
Lectures larger than 100: Set instruction mode as Hybrid or Some Online or use a section blended with Global. 
Lectures smaller than 100: Set instruction mode as Face-to-Face, Hybrid, Some Online, or blended with Global.
Department rooms can be added now. Use the COVID capacities posted on our site at: https://registrar.schedule.wsu.edu/covid19-scheduling/dept-rooms/
GUC spaces will be assigned during the summer. We will make an announcement prior to assigning rooms to allow you to update your Requested Room Capacity. You can find current capacities here: https://registrar.schedule.wsu.edu/covid19-scheduling/room-capacities/
Proofing dates: Now ­- 3/8/21.
Schedule of Classes posts: 3/9/21.
Department Scheduler responsibilities
1. Set instruction mode for all Fall 2021 classes BEFORE selecting APPROVE.
P: 100% face-to-face (synchronous)(also use for the originating campus for VC sections)
40: Videoconference (VC) (synchronous)(receiving campus for VC sections). A VC class is taught by the same instructor on multiple campuses at a specific day/time.

Use P for Originating campus (Pullman only). Request a VC capable GUC or department space.
Use 40 for Receiving campus. Content may be received in a room or on a personal device.

HY: 75% or more web-based instruction (synchronous)

Use when a course will have at least one in-person meeting, but the majority of instruction is online.
Use when the course will rotate students and 25% or less of instruction will be face-to-face (students meet in-person 1 of 4 class meetings).

SO: <75% web-based instruction. (synchronous)

At least 25% of instruction is face-to-face
Use when a course will rotate students and instruction will be face-to-face at least once per week (ie. students meet in-person on M or W or F of a MWF course)

30: 100% online (asynchronous)

Used ONLY for sections blended with Global.
If a section has been approved to be blended by Global, then a section has been set up by Global. Do not set up a new blended section without consulting Global. We will NOT convert existing sections to Global sections.
If you wish to create a new blended section, please contact AOI/Global Campus
2. Set meeting day/time for synchronous instruction
3. Set facility
GUC_TBS: GUC space is requested
VC_PUL: Videoconference space is requested for originating campus. Students receive instruction in-person.
Department Space: Updated capacities can be found at: https://registrar.schedule.wsu.edu/covid19-scheduling/dept-rooms/
ARR_ARR: Only used when a day/time is listed and the room will be arranged by the department at a later date
4. Set Requested Room Capacity & Enrollment Capacity without considering room size FOR NOW.
Set Requested Room Capacity and Enrollment Capacity for the number of students you would like to enroll.
We will ask you to update your Requested Room Capacity during the summer before we assign rooms. If we set this capacity now, your enrollment will be limited.
Room Assignments
Some large lectures may currently have room assignments. No other GUC room assignments will be made until July/August. If you do not want the assigned room, leave a Notes/Request.
Assign Department rooms now. Changes may be made at any time via Notes/Requests.
Do NOT request specific GUC spaces now. We will delete your request. You may request specific rooms after all rooms have been assigned.
To maximize GUC room assignments, we will use the optimizer application to assign rooms based on your previous preferences. We will accept specific room requests AFTER rooms are initially assigned.
If you wish to update your building preferences by department, contact us at schedule@wsu.edu.
Coding Scenarios
Set the instruction mode to describe the way that the instructor intends to teach the course.
Class instruction is 100% face-to-face but students will have an option to join via Zoom when sick or quarantining.
Students will rotate, attending class face-to-face one day per week, and via web-based/Zoom instruction the other two days per week.

SO: less than 75% web-based (2 of 3 days is 67% online)

Students will attend occasional face-to-face meetings, but predominantly will attend via Zoom or other web-based instruction.

HY: 75% or more web-based

Class instruction is 100% via Zoom. Students will attend class via their own device. Class offered on ONE campus.

Not currently an option. Please plan an in-person component and code the class as P, HY, or SO.

Class instruction is Videoconference. Class is offered on multiple campuses.

40: Videoconferencing for the RECEIVING campus. Students may receive instruction in a room or on their own device.
P: 100% face-to-face for the ORIGINATING campus. Instruction will be in a room, though students may occasionally attend using their own device.
---
Previous Announcements
25Live Public Searches
posted 7/10/20
We have updated the Public Searches in 25Live for the Pullman campus. As it is difficult to see the COVID Adjusted capacities in 25Live, these searches will bring up spaces with a given capacity or higher. The search name tells the user the room capacity. For example: CV GUC 45+ will find GUC spaces with 45-49 seats (as 49 is still the highest capacity allowed). We will accept requests for different spaces beginning 7/18/20/ for academic courses. We will not approve any spaces for events until further notice.
| | | | |
| --- | --- | --- | --- |
| CV GUC 45+ | CV GUC 40+ | CV GUC 35+ | CV GUC 30+ |
| CV GUC 25+ | CV GUC 20+ | CV GUC 15+ | CV GUC 10+ |
Fall 2020: Change Standard Meeting Times
To allow a buffer between MWF and TH standard meeting times when a course uses both times, such as MTWH, we have moved Tuesday/Thursday meeting times five minutes later starting at noon. For example, courses that were 12:00 to 1:15pm using the old meeting times will meet 12:05 to 1:20pm starting Fall 2020.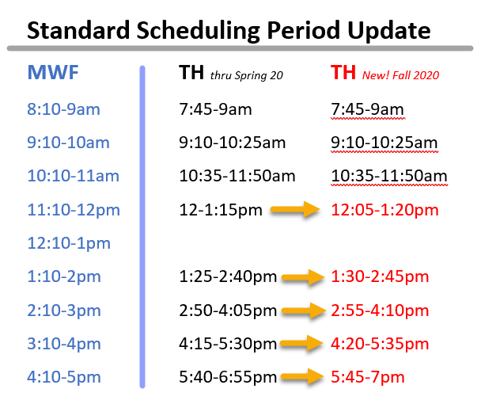 Fall 2021 and Spring 2022 were rolled
posted 7/22/20, updated 9/30/20
We have rolled both future semesters on the Pullman campus to prevent instruction mode updates that are happening during Fall 2020 and Spring 2021 from impacting future semesters.
---
OBIEE: Sections and Enrollment by Instruction Mode
posted 7/22/20
We created a new OBIEE report to give departments a way to visualize how many sections and students are enrolled based on Instruction Mode. This new report is located in myWSU > OBIEE > WSU Enrollment Summary Reports > Enrollment Summary Reports dashboard > Instruction Mode Summary Info. The report provides "live" data from the previous evening. There is not a way to view data on a specific date.
The top area shows Instruction Mode percentages by section and enrollment by campus. The screenshot below was taken on 7/22/20.

The second section allows the user to view Instruction Mode based on Term, Campus, Academic Group, Academic Organization, and Subject. Dropdowns allow the user to change the options. This section allows the user to export a spreadsheet showing the data.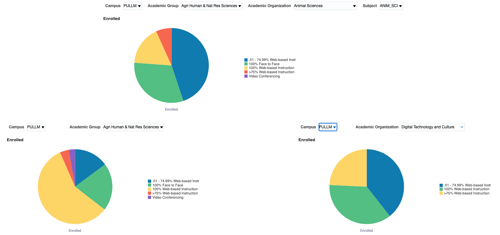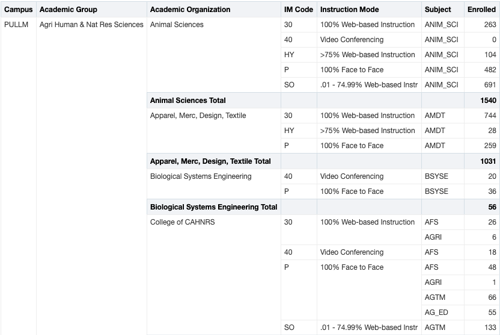 Updated Training Guides
We have updated our 25Live training guides in the right sidebar. NEW! We have created an Event Type for your Room Search Event. Please use "X DRAFT" as the event type when you create a new Room Search Event. All current Room Search Events that were using 25L Pullman Academic Event were updated. We were thrilled to see how many departmental Room Search Events are out there! Great job! You may want to set up a second search for Fall 2020, for example "Butch's Room Search - Fall". You can keep your Spring search and just update the dates for Spring 2021, if you like.
---
Join our Listserv
Join our cleverly named Schedulers_dept listserv for Department and Event Schedulers. Use this link to join. Academic scheduling announcements, our newsletters, and other messages will be sent through the list.
Schedule Builder Classes
Do you want a refresher on the Schedule Builder applications in myWSU? Are you new to scheduling and need access to Schedule Builder applications? For more information on access and training, find it in the Schedule Builder training pages. We do not have any classes planned for early 2020 as WorkDay is using our normal lab. Send Jill Freuden an email if you are interested in a class; we can set up a temporary lab in Lighty if needed.