OBIEE Reports
Access OBIEE Reports from myWSU under the Main Menu. Department Schedulers will use the Dashboards WSU Schedule Builder and WSU Data Validation.
Mozilla Firefox, Google Chrome, and Microsoft Edge work for OBIEE Reports.
Pop-up blocker must be OFF.
Most reports will export with duplicate rows. This occurs because a row is added when there are multiple values in the same field. For instance, if two instructors are listed, two copies of the class information will export, one with each instructor listed. Class Attributes will also create extra rows. Information on Exporting reports to Excel and removing duplicates.
Customize your reports to save time
Each report will have options to customize the report for the information you need now. You will have options to set Term, Campus, Subjects, and more. Save time by saving the customization so that you can easily apply them on the next visit.
Set the custom fields as desired
Select the gear in the upper right corner
Choose Save Current Customization... and name the customization. If you want this customization to be your default, check the "Make this my default for this page" checkbox. The image below shows example names.
Apply Saved Customization to use a saved customization.
Edit Saved Customizations to remove old customizations.
Clear My Customization to clear the fields in the current report.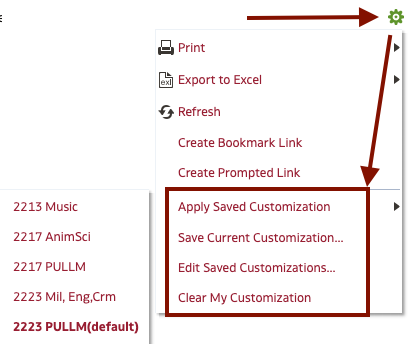 Refresh an OBIEE report: Select the gear in the top right corner, then Refresh.

---
WSU Schedule Builder Dashboard
If you do not have access to the Schedule Builder dashboard, you do not have the role W BI SCHEDULER in myWSU. This may be requested from Crimson Service Desk. More information on the required roles for Department Schedulers. Links to more information about the various reports are in the sidebar.

---
WSU Data Validation
This dashboard is useful for finding errors that will impact grading or Census Day reporting. Department Schedulers should use the Teacher Assignment report to find problems with instructor load and classes that do not have an instructor assigned, yet a student is enrolled. An instructor must be listed for grading. If an instructor is not present when instruction ends, the department will not be able to grade the class and must contact the Registrar's Office for assistance. Please check the report over the term to ensure that all students have an instructor listed - this is especially an issue with upper level Individually Taught classes.
Individually Taught Courses 
When a class is listed in the report, the instructor must be added in Maintain Schedule of Classes AND the student must select the instructor when they enroll. You can fix the missing instructor in Quick Enrollment > Normal Maintenance > Other Class Info.
OBIEE Information
Schedule Builder Reports
The Schedule Builder Reports were updated during 2022. The primary report is: Schedule Builder Reports. This report uses a dropdown under the search fields to Select the View you wish to use. If you are only Viewing a report in OBIEE, you can use the left Approval Ind: Approved/Unapproved to view just approved or unapproved sections. If you plan to export the report, you MUST use the center search fields to filter the data that exports. For example, if you only want approved courses, use the upper Approval Ind: NULL/Approved/Blank/Unapproved field instead of the side dropdown.
Approved/Unapproved Course Report. Lists courses by approval status. Update the center Approval Ind if you plan to export the report.
Combined/Uncombined Course. The combined report lists classes in the Combined Section table. Shows Primary Instruction section and LMS flagging. The uncombined report lists classes that should be combined.
Comments: Shows the Comments field. Update the center With Comments field to export only sections with Comments.
New Condensed Schedule Builder. Pared down list of classes intended for schedulers.
Notes/Requests: Shows the Notes/Requests field. Update the center With Notes/Requests field to export only sections with Notes/Requests.
Schedule Builder Data. Comprehensive list of classes an information. Melissa's favorite.
Simplified SBD. A single line report. Jill's favorite. Does not include Instructors nor Class Attributes. Use for bulk Instruction Mode submissions. (It may not be working like this at this time...)
Legacy Schedule Builder Reports
These reports may still be visible in the Schedule Builder workspace. As the functionality of the primary Schedule Builder Reports 
Schedule Builder Dataset: The master dataset. It may not load; it is VERY large.
Schedule Builder Notes/Requests. Used by Campus Schedulers to find new Notes/Requests from the Meeting tab.
Schedule Builder Comments. Used by Department Schedulers to find comments from Campus Schedulers.
Exam Notes. Used by Campus Schedulers to find new Final Exam Notes/Requests from the Exam tab.
Combined Courses. Listing of classes that are in the Combined Section table. Shows Primary Instruction section and LMS flagging.
Uncombined Courses. Courses that are not in the Combined Section Table but should be (XLST or CONJ Class Attribute)
Final Exam. Lists Final Exam information once it has been added by the Campus Scheduler.