Instructor/Advisor Table
Main Menu > Curriculum Management > Instructor/Advisor Information > Instructor/Advisor Table
Find the desired individual using WSU ID (with leading 0, ex:  099999999) or Last Name, First Name.
Select Search
Instructor/Advisor Table tab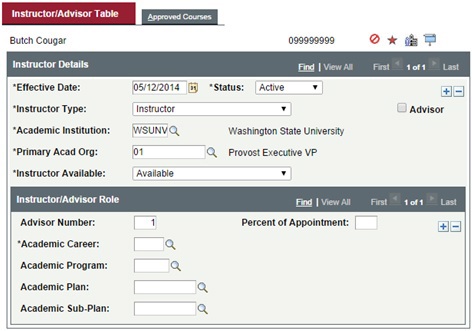 Instructor Details
Effective Date: First day of the previous term 

Default is today's date. You will not be able to add the instructor if the semester has started unless you backdate the entry.
If you save the wrong date, contact the Campus Scheduler to fix the error.

Status: Active
Instructor Type: Instructor

Use Instructor for everyone. Ignore the other options.

Primary Acad Org: Update with the correct Academic Organization.

Use the magnifying glass.
Select Description to sort by Description

DO NOT select SAVE yet!
Approved Courses tab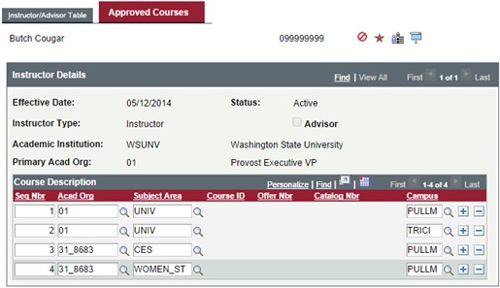 Course Description
Update Acad Org, Subject Area, and Campus only. Course ID & Offer Nbr will disappear after Acad Org is updated. Select "+" to add more rows.
Acad Org: Use the magnifying glass then select Description to sort or find in the Subject Area listing
Subject Area: Use the magnifying glass then select Subject Area or Description to sort
Campus: Use the magnifying glass to select the correct Campus. You must add all Subjects for each Campus.
Crosslisted Courses: Add all Subjects in the cross listed group
Save your entries.
This Instructor is now available to update in Maintain Schedule of Classes.