SOC Notes Instructions
The SOC Notes tab displays the following information.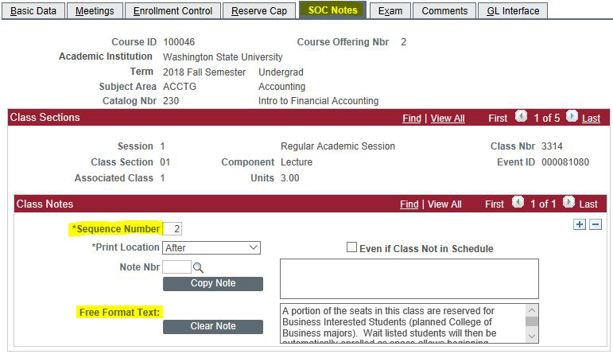 The SOC (Schedule of Classes) Notes tab is used to display additional information about the section.
Sequence Number field
Sequence Number 1: URLs only.
Sequence Number 2: Text only.

Sequence number 2 is required for display in the Schedule of Classes.
Note Nbr
Use the magnifying glass to see a list of pre-written SOC Notes. Current list of notes.
Use Copy Note to move the pre-written note into the Free Format field. The note is not visible unless it is in the Free Format Text field. Copy Note will erase any content currently in the field. To keep the current note, copy the content (Cntrl+C) and paste it into the Free Format Text field (Cntrl+P).
Free Format Text field
No double quotes (") in this field. 

They cause the RONet Schedule of Classes to break. Single quotes are acceptable.

URLs display as More Information on the RONet Schedule of Classes.
Use html to improve readability and format text

<br> inserts a line break
<br><br> inserts a line space
<strong></strong> bolds the enclosed text
<em></em> italicizes the enclosed text
Example SOC Notes
Blended Course
Seq. 1:  http://apps.aoi.wsu.edu/coursemoreinfo/course_more_info.aspx?uid=2187-12345

Seq. 2:  This section is a web-based section and does not meet in a regular classroom
Chemistry Classes
Seq. 1:  http://chem.wsu.edu/firstday/

Seq. 2:  A portion of the seats in this class are reserved for Business Interested Students (planned College of Business majors). Wait listed students will then be automatically enrolled as space allows beginning 8/15/2018.