Hello Schedulers,
Fall 2020 is Live on SOC for most campuses!
Department Schedulers did a great job of approving sections for Fall 2020 during the Proofing windows. This is a snapshot of where we stand for Fall 2020.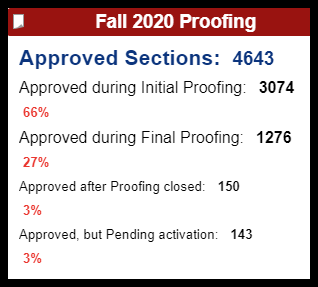 Fall 2020 Notes: Pullman
Courses approved during Proofing, before 2/23/20.
These courses should be Active and visible on Schedule of Classes.
Schedulers did such a great job approving courses during Proofing, that it is taking longer than normal to assign rooms. This is a great problem to have and we will adjust our timeline for Spring 2021 to accommodate this.
Videoconference rooms were assigned to VC courses first. There is a shortage of VC spaces. VC courses approved during Proofing received priority for VC spaces; we have started to assign other courses in these rooms.
Rooms have not been assigned to all sections. Melissa is working on this now.

Courses with room requests are assigned first in order of capacity.
Courses without room assignments will be assigned a room as space is available

Email me if there is a problem with your course appearing in SOC.
Courses approved after Final Proofing, starting 2/24/20.
Please allow up to two weeks for courses approved after Proofing to be activated or updated. We are assigning rooms to courses approved during Proofing before we work on newly approved courses or changes.
Once Melissa completes the bulk of Fall updates, Jill will take over Spring 2020 and Melissa will start to prepare Spring 2021 to roll. At that point, please allow one week for changes to be made.
Please allow extra time if you would like a course available during Priority Registration.
Fall 2020 Final Examinations
The final exam schedule has been approved and posted. Thank you to everyone who noting Final Exams in Maintain Schedule of Classes. Going forward, this will be very helpful for us when we write future finals schedules.
You can find the exam schedule at: https://registrar.schedule.wsu.edu/exams/final-exams/fall-2020/.
What's new?

The official finals schedule will end at 1pm on Friday.
Exam times have shifted and no longer overlap.
The fall schedule is available in html and as a downloadable pdf.
Block finals will not be held on Fridays, when possible.

If you find major conflicts with this schedule going forward, please email me to let me know.
Melissa will schedule rooms for finals in April.
Random Notes: Pullman
25Live
You may be noticing that the changes in 25Live keep coming. One change really pesters folks, and it's easy to fix. The application has started defaulting to the Calendar view. You can change to Availability View in the "hamburger" next to the word "More". Select "Availability".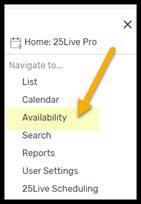 25Live room features will be updated in the near future to match the general room features used in myWSU. For instance, a space that meets the Standard Room 81 features, will simply say "Standard Room 81" in the description instead of listing each room feature. For a list of GUC Room Types, see our General University Classrooms page.
Need help with 25Live? Visit our new 25Live Help page.
Room names for Annexes
We have updated Fulmer Annex spaces to the correct prefix FLMA in both myWSU and 25Live. We are working to fix Todd Annex spaces going forward, including TDAD 276.
Working on improving myWSU
The Academic Advisory Committee met last week to discuss issues that schedulers are having working with the Schedule Builder applications in myWSU. This was a very productive meeting and we appreciate Gary Saunders for listening to us for an hour. The thinking is that the improvements we have made, such as the Internal Notes Finals Dropdown, have caused some of the issues we are having with Saving and Unapproving. Gary is looking into these issues and we hope that he will find a solution. In the meantime, keep Saving often, and consider Schedule Class Meetings when you are able.
Thanks for reading and for all you do at WSU. Melissa will be off for a couple days, so feel free to call me or email the schedule mailbox. Sheree or I will be watching it for urgent issues. I'll run a report Thursday morning and activate Fall 2020 courses that do not need room assignments. I can do this without destroying Melissa's very precise spreadsheet management system.