MSC: Comments Tab
The Comments tab provides a history of the requests that have been submitted by Department Schedulers in the Notes/Request field on the Meetings tab.
Please note the following:

This field is view only to Department Schedulers.
Requests are moved to the Comments tab after they have been completed by the Campus Scheduler.
Requests that require further action are moved to the Comments tab and the following will be sent in an email to the Department Scheduler.

Please review the comment that has been added to the Comments tab in Maintain Schedule of Classes for BSYSE 557-01 - Fall 2018.  If further action is needed, please update that information in the Notes/Request field.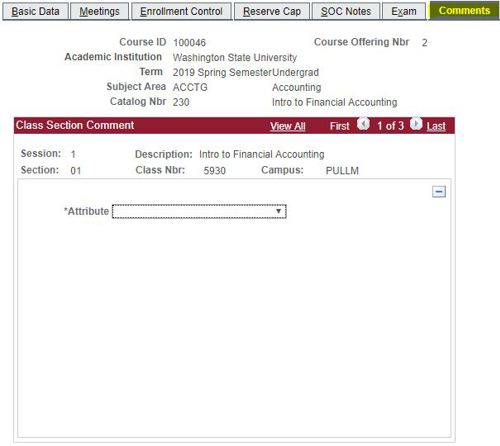 Pending Request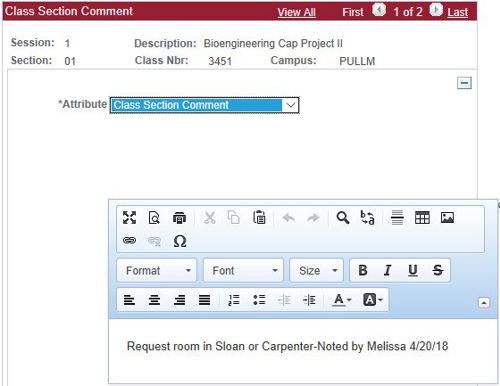 Request submitted during Initial Proofing.
No further action needed.
Denied Request
Room Request denied
Sent back to Department Scheduler for further action. 

No changes made.  SPRK 339 isn't available for your request because ANIM SCI 464-01 is scheduled in there.  Please view the Videoconference and GUC room availability at the following options:

1.       Academic Room Scheduling website at http://registrar.schedule.wsu.edu/general-university-classroom-guc-list/.

2.       Class Facility Usage in myWSU at Curriculum Management > Facility and Event Information > Class Facility Usage.

3.       25Live Webviewer at https://25live.collegenet.com/wsu.

If one of these rooms/times works please submit a request in the Notes/Request field.  Otherwise, if possible, please change the meeting time, limits and/or schedule a departmental room.

You also may be able to find a course(s) that are willing to switch rooms.  All courses need to submit the request in Schedule Builder in the Notes/Request field.-Unapproved by Melissa 6/7/18
Completed Request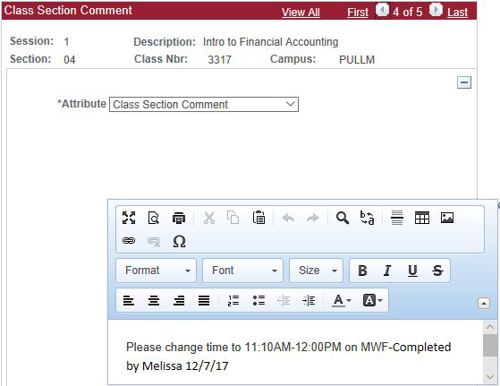 No further action needed.