Print Class Schedule is no longer the easiest way to see your Approved Sections. We recommend using OBIEE Schedule Builder Dashboard.
Print Class Schedule
From the Main Menu select Curriculum Management > Schedule of Classes > Print Class Schedule.
If you don't have access to this please send an email to access.SIS@wsu.edu and request SR 08 Schedule View role.

Click the Add New Value tab.
You can type in anything you desire.  No one has access to this except you.
Example:  Spring_2016
Click Add.

Fill in the following boxes:
Academic Institution
Term
Academic Organization Node
Session
Subject Area (optional)
Schedule Print - Yes
Print Instructor in Schedule - Yes
Print By Campus - Check the box
Campus
Check mark the following boxes:
Active
Cancelled
Tentative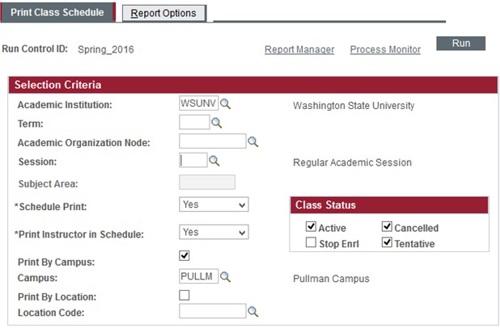 Click the Report Options tab and check every box.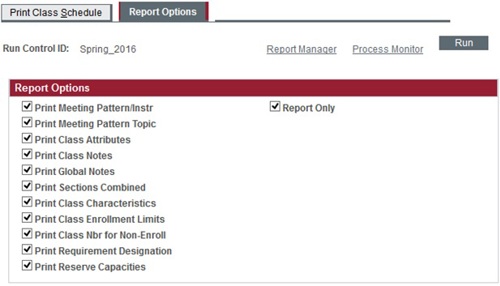 Click Run.
Click OK.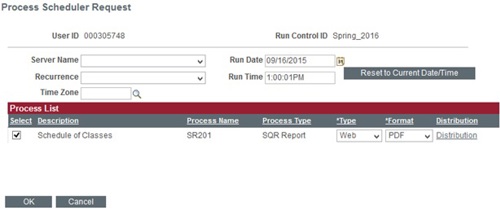 Click the Process Monitor link (by the Run button).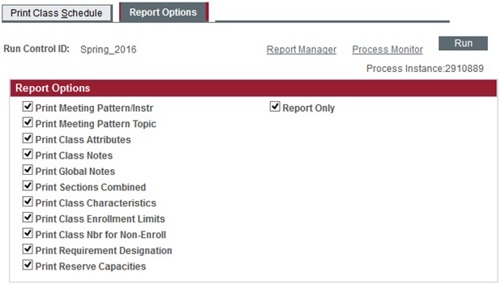 Click the Refresh button until the Run Status says Success and Distribution Status says posted.
Click Go back to Print Class Schedule.

Click Report Manager.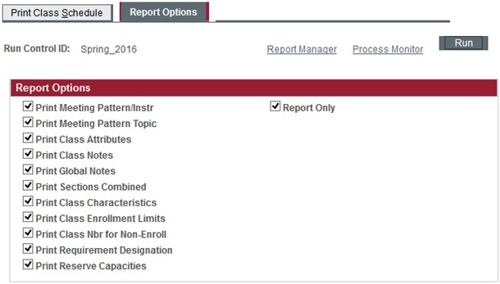 Click Administration.
Click the Schedule of Classes link (under Description).

This opens your class schedule as a pdf.